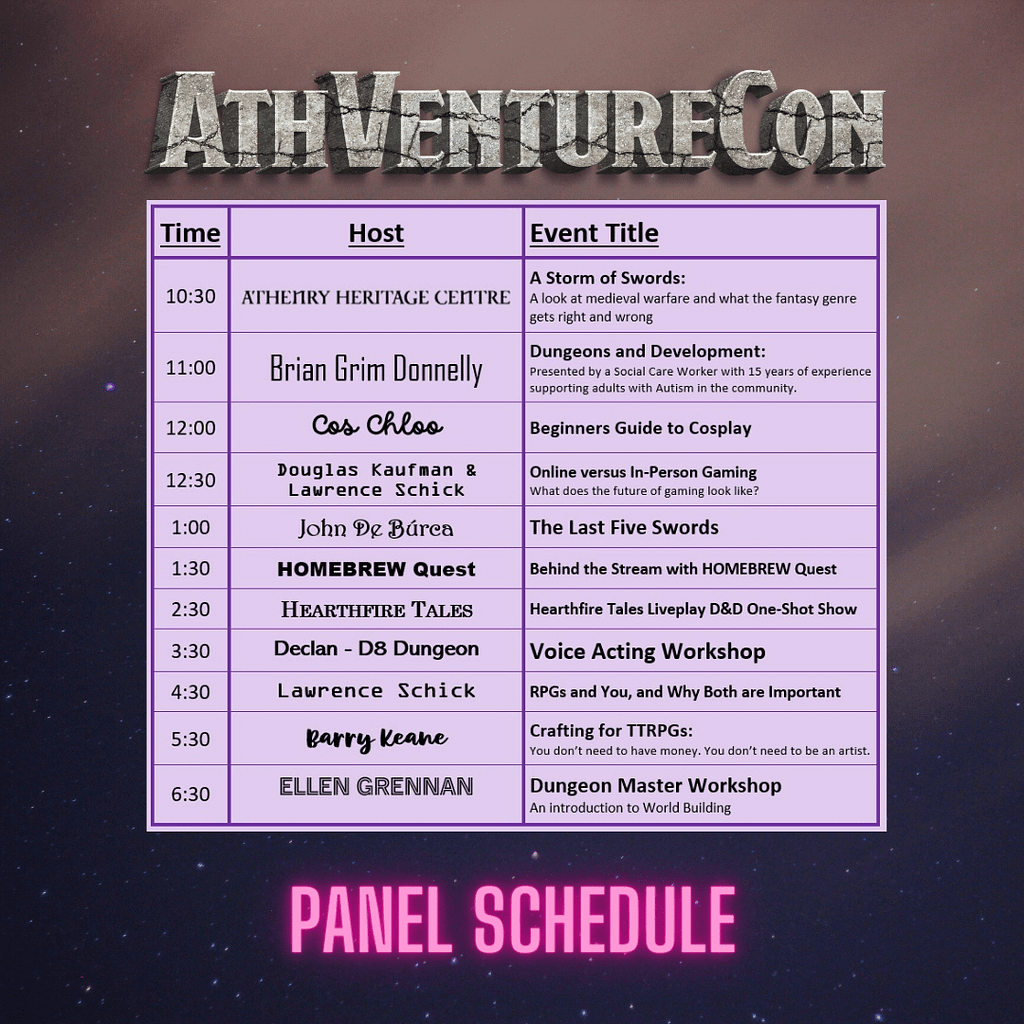 10:30- Jeff Dann – A Storm of Swords
Dr. Jeff Dann of the Athenry Heritage Centre examines medieval weapons, armour and tactics, looking at what the fantasy genre and games get right, what they get wrong and what Medieval warfare was actually like.
11:00 – Brian Donnelly – Dungeons and Development
Presented by a Social Care Worker with 15 years of experience supporting adults with Autism in the community. A discussion of the application of Dungeons and Dragons and other RPGs as a tool for supporting individuals – from Social engagement during Covid Lockdown to the Development of Personal Skills and the benefits of both failure and learning that you are a BAD ASS.
12:00 – Cos Chloo – Beginners Guide to Cosplay
You create and play the characters that you love, but where do you begin if you want to bring them into the real world and cosplay as them? Check out Cos Chloo's Beginners guide to cosplay where she will take you through some of the basics like where to start your cosplay journey, how to build your cosplay kit, and where to begin when it comes to characters with non-human features (tails, horns ears etc.) Chloo has been cosplaying for over a decade and has picked up tips and tricks along the way that she is always happy to share.
12:30 – Douglas Kaufman & Lawrence Schick – Online versus in-person gaming. What does the future of gaming look like?
Douglas Kaufmann is known for his work on Civilization 2, Sid Meier's Colonization and Sid Meier's Alpha Centauri. Lawrence Schick is the former lead loremaster for Elder Scrolls Online and wrote White Plume Mountain which was incorporated into the Greyhawk setting. Lawrence is also one of the lead writers on the D&D video game Balder's Gate 3 to be released this summer!
Join them as they discuss the future of gaming. They will draw on their experience in the gaming industry and gaming at home and with friends as they discuss the future of gaming. Will it be in person or online? How is the industry changing? What do they envision gaming will be like in 10 years?
1:00 – John De Burca – 'The Last Five Swords'
John will discuss his journey from player to DM, and the world and character building tricks that led to his interest in storytelling. – He will also have some copies of his book 'The Last Five Swords' for sale.
1:30 – Behind the Stream with Homebrew Quest
Come and sit 'Behind the Stream with HomeBrew Quest' while they share their experiences creating and playing in a tipsy DnD livestream and podcast. Come chat and pick up tips on finding your game's tone, differences between home games and RPGs as entertainment, and how you can avoid the epic mistakes they made starting out.
2:30 – Hearthfire Tales is a live play D&D podcast with suspense, humour, action and metal!
Hearthfire Tales bring their unique world and style to life in a very special One-Shot live show. Join the Band as they adventure through a land of Might, Magic, and Metal!
3:30 – Declan Doody – Voice Acting Workshop
Are you looking to take your game to the next level as a player? Maybe you're a budding DM who doesn't have the confidence to try different voices. Declan from D8 Dungeon will present a masterclass in voice acting and character work. Come and learn the techniques used by the pros to craft a wide range of unique and credible voices and accents. Boost immersion in your game and avoid confusion at the table by crafting your characters' unique voice of one of Ireland's greatest voice talents.
4:30 – Lawrence Schick – RPGs and You, and Why Both are Important
Longtime RPG designer Lawrence Schick reflects on almost 50 years of role-playing: where it's come from, where it is now, and why the players themselves are more important than ever. In an age of easy and unlimited spoon-fed entertainment, why do we make the effort to tell our own collaborative stories? What value does that have for us and for the society we live in? This will be an interactive talk, so bring your questions and your own war stories.
This special talk with Lawrence will last about 30 minutes and will be followed up with a Q&A. If you have any questions for Lawrence, send them in here!
5:30 – Barry Keane – Crafting for TTRPGs:
You don't need to have money. You don't need to be an artist.
Barry has spent many years at the table. Over the years he has learned to craft resources and minis to boost the experience for DM and players alike. Come and see how easy it can be to make amazing crafts to boost the experience. You don't need to be a gifted artist and you don't need a lot of money to create great looking game pieces.
6:30 – Ellen Grennan – Game Master Workshop
Ellen DMs her own campaign and also runs a club at her school. In this GM workshop she will take you through NPC character creation, world building and map creation using online and physical resources. A must see for people interested in building their own settings and/or campaigns.