Have some loot to spend? Check out some of the vendors and artists that will be joining us.
We'll continue adding merchants to the list as we get closer to the date, so check back or make sure to follow us on social media.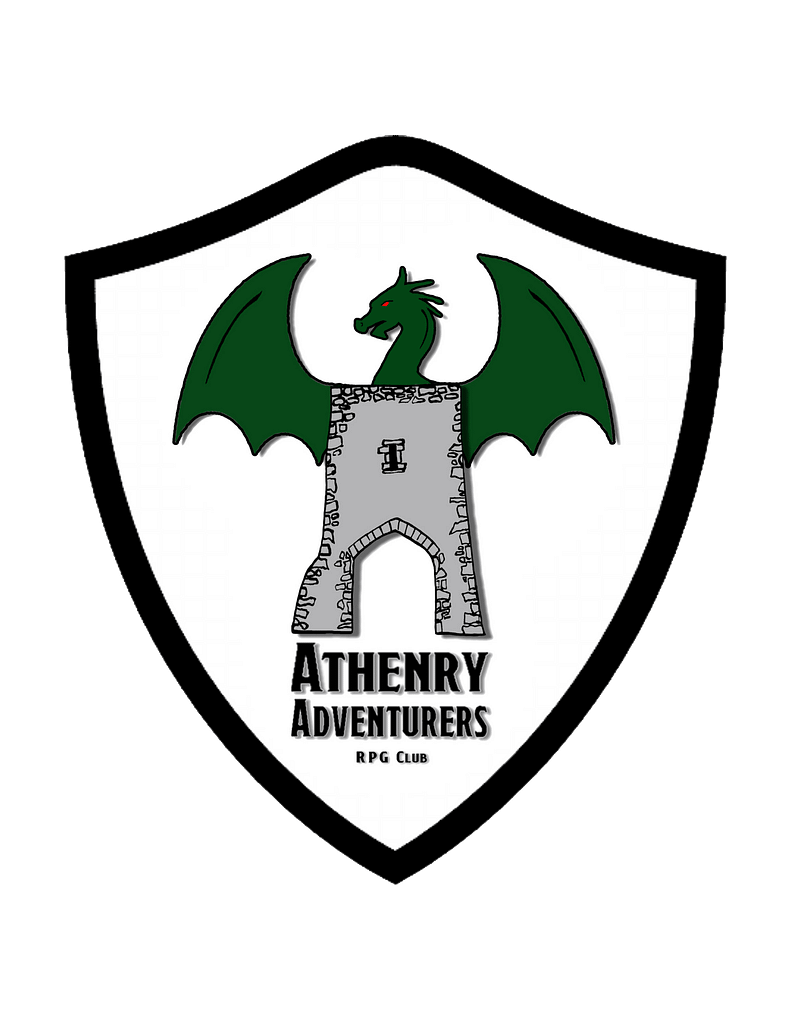 There will be a vendor table for the club. Here you'll find some AthVentureCon merchandise as well as art and creations made by club members. Raffle tickets will also be available for purchase here!
Board games, ttrpg goodies and donuts, oh my! This is the place to shop all things board and ttrpg related in the west of Ireland. We're delighted to have them with us.
They will also be bringing their board game library. Rental will be just €5 a game and there will be tables around for attendees to use.
The recently rebranded Shamrock Games will be joining us. If you're looking for beautiful, hand-crafted leather dice bags, trays and dice- then this is your shop!
Warlock Leathercraft will also be running workshops where you'll get an introduction to leathercraft and will make a beautiful drawstring pouch that you can turn into a dice tray.
The cost is €50 and includes everything! There will be just 2 session during the con with a limit of 10 places each, so don't delay! Sign up here
A neurodivergent writer of the epic and the urban, the fantastical and the mysterious.
With his character-driven dark fantasy series Empire Of Ruin, or urban fantasy noir Hell In Haven, David takes readers on emotional, action-packed thrill rides.
Looking for a new fantasy series to dive into? Check him out and get excited about meeting the author!
A live play D&D podcast with suspense, humour, action and metal!
When they aren't running their live game for you to watch, they'll be in the hall promoting their show. If you aren't already a fan, give it a listen before the day and stop by and say hi!
Marta is a character designer and 2D animator but most importantly she is a big D&D nerd! Marta has been playing D&D for 7 years now and is currently a Dungeon Master herself!
At her stall you will find loads of prints, badges, stickers and notepads. From cute frog illustrations to your fav D&D class badges to some darker artwork. You will even find cool D&D notepads for note taking during your game!
There is something for everyone!
PVR 3D Sculpts – a 3D sculptor who uses 3D printing to create magical miniatures. They will have replicas of their sculptures on the day for you to place an order for your very own to paint.
These are truly unique minis and everyone with ever a remote interest in miniature painting should check them out!
Everenia, one of our local Galway vendors, will be selling a variety of mysterious hand-crafted jewellery, trinkets and treasures!
Caoimhe McDermott-Quinn is a visual artist that goes by the handle of cyborgcinders online. They specialise in digital art and explore the medium through fanart. They have a love for Dungeons & Dragons, Irish folklore, animation and web comics. They sell prints, stickers and charms relating to different fandoms, and custom commissions will also be available!
Jayme Murphy is currently an aspiring animator from Galway! She enjoys experimenting with different mediums in her animation which has definitely crossed over into her personal work.
She says she's a huge anime and games nerd and tries to stick to drawing what she loves in print, badge and sticker form. Jayme will also have adorable needle felt little plushes and jewellery!
Crafting Magic Designs is a hobby spun out of control! Inspired by all kinds of geekiness and an inability to sit still, Jamie crafts, casts, cuts, and 3d prints an array of accessories perfect for your gaming table.
This AthVentureCon she'll have a selection of dice bags, Potions of Healing, miniatures (some won't be so mini), terrain, dice towers, and more! Jamie aims to make things that will bring a little something extra to your game.
Fáilte go Banbha Productions, a new Irish Indie Game Company. Showcasing a sneak peek into the world of Wings of Balance, an action-adventure video game inspired by Irish mythology, with its art style inspired by the works of Studio Ghibli. Who knows you might learn cúpla focal of Gaeilge.